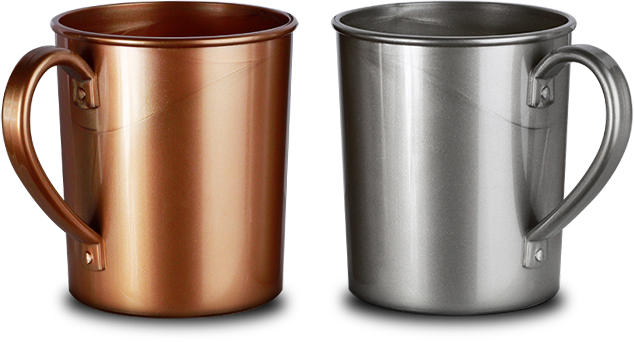 12 oz Copper & Tin Color Plastic Mule Mugs
Our plastic mule mugs are are perfect for weddings, hotels, casinos, events, stadiums, bars/restaurants, concert venues and all that is social. Inspired by the iconic copper moscow mule mug itself, our mugs look like the real thing but are actually plastic, and cost much less. Now this iconic mug can be served everywhere. Ask for a Plastic Jack! This affordable plastic mule mug doesn't start and stop with the moscow mule cocktail, oh no - this vessel can deliver goodness of all kinds to increase your sales or promote your business. Offered both in copper and tin colors, these are not coated, they are solid color through and through. One color imprint only (black), reusable, dishwasher safe (top rack only), BPA free, FDA approved materials, recyclable, and oh yes - made in the USA. Plus, worry-free customer service, we are here to serve - literally.
All prices and descriptions are subject to change without notice. Total price is for Plastic Jack mugs only and/or imprinting as defined. Prices displayed do not include setup charges, design, art changes, shipping charges, required taxes, rush charges or any other additional charges, all of which will be communicated prior to processing the order. All information, images, content and pages shown on this website may not be copied, duplicated, saved, or captured. This content and imagery are property of Plastic Jack LLC.